We can take care of your sewer line replacement or help you avoid needing it.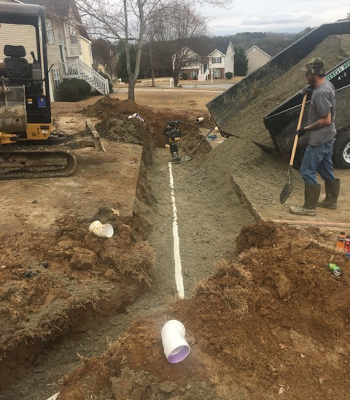 Any number of things can result in your Dallas, Georgia home needing sewer line replacement. Sometimes just a simple repair isn't enough to resolve a slow drain or backup situation. At Troy and Sons Plumbing, we are equipped to investigate what has happened and provide the most cost-effective solution. Whether that is sewer line repair or replacement will depend on the situation.
One potential reason to need sewer line replacement is if there a problem with the grade. Gravity only works in your favor if your home's main sewer line is higher than the one at the street. Generally, this system is installed properly when the home is built, but builder errors can and do happen on occasion. Most of the time, only a partial sewer line replacement is necessary to resolve a break due to ground settling or root intrusion. With the use of our state-of-the-art camera system, we can locate where the problem is so that your entire yard doesn't need to be disturbed.
We recommend having your sewer lines checked and cleaned out regularly to help avoid the need for sewer line replacement or at least get a jump on it before a messy backup happens. For example, we can spot a tree root problem while it just involves smaller roots rather than after they've expanded and blocked the sewer line entirely.
If you are experiencing slow drains and suspect you need sewer line replacement or would like to be proactive in preventing a problem, reach out to us today to schedule an appointment.